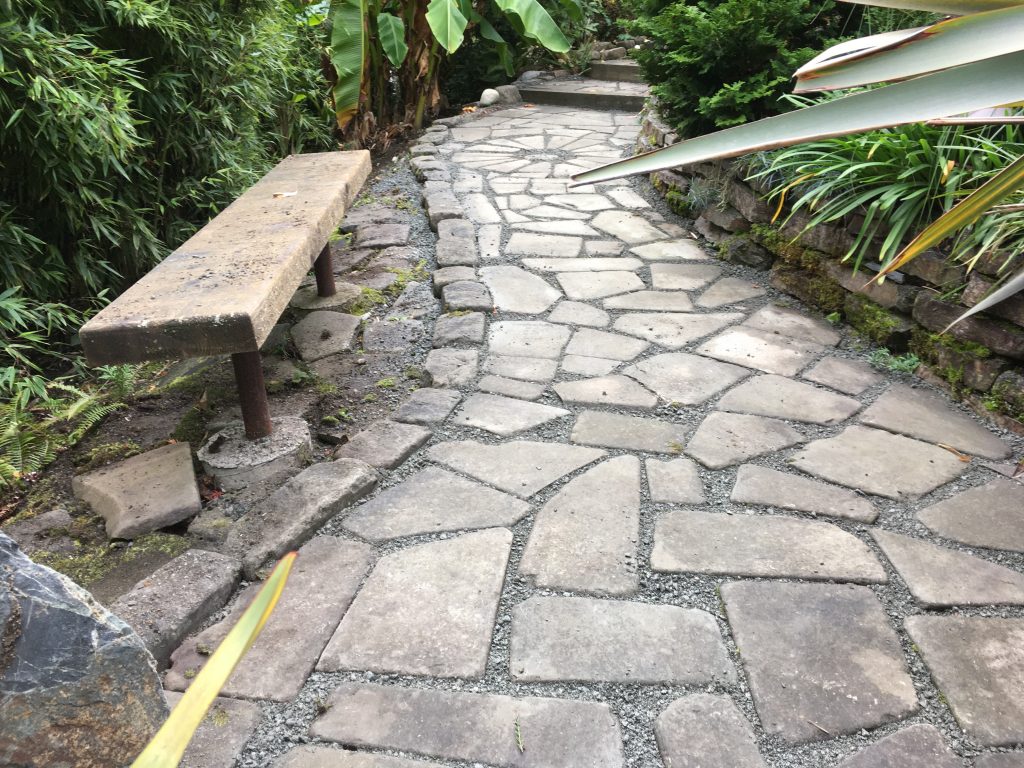 Flagstone Install in Victoria BC
A flagstone landscape offers a beautiful natural look to any residence. These natural stones are used to build flagstone patios and walkways all over Victoria BC. Flagstone's natural look can create an immersive environment in the middle of the city and in the middle of your property the feeling of being in serenity with Nature. Create a slice of paradise in your yard with the combination of natural stone elements.
Beside offering a serene look and feel, flagstone pavers are a very durable long lasting solution, when installed properly. With the proper amount and type of gravel underneath, right amount of spacing and configuration between the stones, a stable long lasting surface can be maintained for many years.
Choose from a variety of stone types, colors, sizes, and colors with your landscaper to best suit your tastes and needs.
Flagstone landscapes are simple to maintain as the stones naturally will prevent weeds from growing.
Whether it's a set of stairs, a walkway, or a patio, the choice is up to you with this versatile material. Let us know your vision and we'll make it a reality.
Stone landscapes are more affordable than you think! Building with flagstone is comparable to working with pavers. Ask us how much it costs.
Triton Landscaping brings our construction experience as well as with design aesthetics to bring you something that not only will be structurally sound and be safe to use, but also be aesthetically pleasing. We combine different elements, different materials, and different designs to bring out a most desired experience.
We will work with you from start to finish in selecting the right stones, explain the construction process, the types of materials used, and explain samples of our vision for you to decide upon. We will work within your budget, your desires, and apply our experience to bring about the best outcomes possible.
We want to build landscapes that will work as intended, will last for many years, and gives you the experience that is so important in ascending a good landscape to an excellent one. We want you to be able to use these flagstone landscapes for many years to come and be pleased to share the experience with your friends and family as well.
Founded with integrity in mind, we reflect our desire to build and maintain trust throughout the entire process from start to finish. We take great measures to make clear that your expectations are being met, your vision is being realized, and that we are on the same page from our first meeting to laying our last block. Our mission is to deliver good quality work at an affordable price to all your landscaping needs in Victoria BC. We want you to be happy  with us and our work long after we are finished.