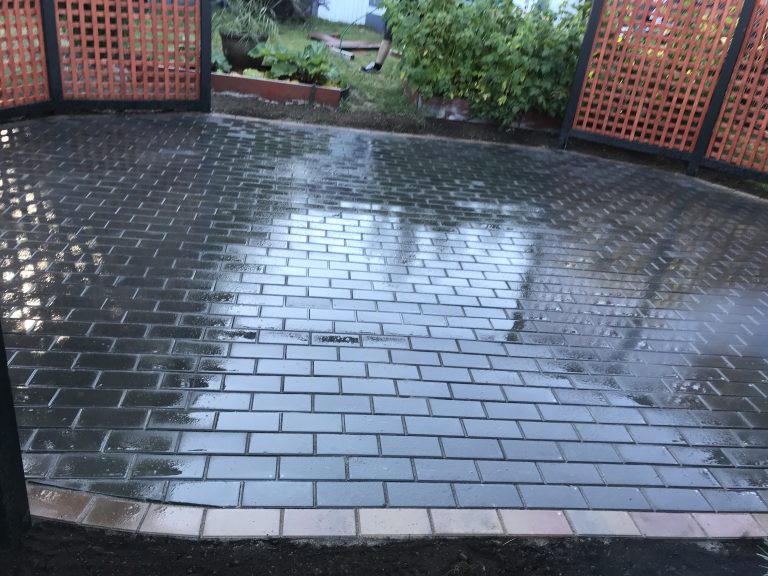 Backyard Paver Patio with Interlocking Pavers
This was a paver patio project using interlocking pavers. It was approximately 300 sq ft in size located in a back yard. The owners desired a transformation of their existing landscape from a former grassed area where they entertained friends and family to a space for their new hot tub. Since there were already privacy walls up, one of the requirements was to adhere to the boundaries of this old space.
The main challenges in this project was that it was located in the back of an larger than average lot as well as a small incline which was at the time, accessed via two steps. Thus a ramp had to be built to transport both materials and machinery to the back.
For the excavation phase, we used a mini excavator and scraped about 10″ off of the top. To minimize going back and forth and damaging the existing landscaping with the tracks, excavated soil was transported manually via wheelbarrow to our dump trailer parked in the driveway. Care was taken also not to damage the existing privacy walls with the machinery.
After ensuring the ground was at the correct depth and pitch, the excavator was used in conjunction with our wheelbarrows to transport road base gravel from the driveway to the paver patio area. 6″-7″ of road base was installed, raked, and compacted after again ensuring that the correct depths and pitch was adhered  to. Especially with pavers, it's important to make sure that there is excellent water drainage and so in this case, we wanted to make sure the water flowed off of the paver patio via gravity.
Before laying pavers, 1″ of concrete sand was used as the final base layer and screeded to ensure a smooth surface. The paver bricks were then laid from one side to another, avoiding stepping in the unlaid areas in order not to disturb the surface. Using levels, the correct pitch was checked again to ensure good drainage properties. Many cuts also had to be made with our masonry saw due to the somewhat irregular octagonal shape of the patio area.
Once all the pavers were laid to satisfaction, joint sand was applied and the surface compacted, twice, to ensure that the pavers were settled in and stable.
The owners were very gracious during this entire landscape project as it was a particularly hot week. Lots of cold refrigerated water was offered to us, which was very generous and considerate. They were in the end very pleased with the results and were excited to install their new hot tub.